FOREWORD
When my father began to do business in Vietnam in 1970, he was captivated by what he saw as its boundless potential, both in terms of its abundance of natural produce and the warmth and work ethic of its people. He was proved to be farsighted for Vietnam is now one of the most dynamic economies in South-east Asia.
Being a citizen of Hong Kong, I now regard Vietnam as my second home. My son, as the third generation, has joined me in Vietnam and we look forward to many more anniversaries to come.
From seafood processing business, we have become Vietnam's largest importer-exporter in the early days, being one of the first foreign companies to set up a representative office in Ho Chi Minh City. We have since expanded into real estate, financial services and coffee.
I founded the Hong Kong-Vietnam Chamber of Commerce in 2008, of which I am the Chairman to promote the common interests of both business communities.
I am a firm believer in companies contributing to the societies where they have enjoyed success and to this end, I set up the Sunwah Foundation, which is active wherever in the world we operate. In Vietnam, it has organised many meaningful and effective events and activities in the fields of education, art and culture, and sponsored international exchanges.
I believe that, prompted by my father's early commitment, my knowledge of Vietnam has enriched my life and I will continue to contribute as much as I possibly can to its development.
GROUP OVERVIEW
Sunwah's business activities worldwide
Sunwah Group is a Hong Kong – based conglomerate. Its corporate history dates back to 1957. Sunwah Chairman, Dr Jonathan Choi, son of the Founder, assumed control of Sunwah Group in 1976. Under his leadership, Sunwah has become a highly diversified conglomerate with businesses in eight principal areas: Seafood & Foodstuff, Real Estate, Financial Services, Technology, Infrastructure, Education & Training, Media and Green Technology. Activities extend deep into Mainland China and Macau as well as regionally to Japan, ASEAN countries and globally to North America,  Europe and Australia.
Sunwah's business activities in Vietnam
Sunwah Group has operated in Vietnam for nearly 50 years. The rapid economic development in Vietnam in recent years has resulted in significant increase in Sunwah Group's investment in Vietnam. Business in Vietnam covers Seafood, Real Estate, Financial Services, Coffee and Commodities Trading.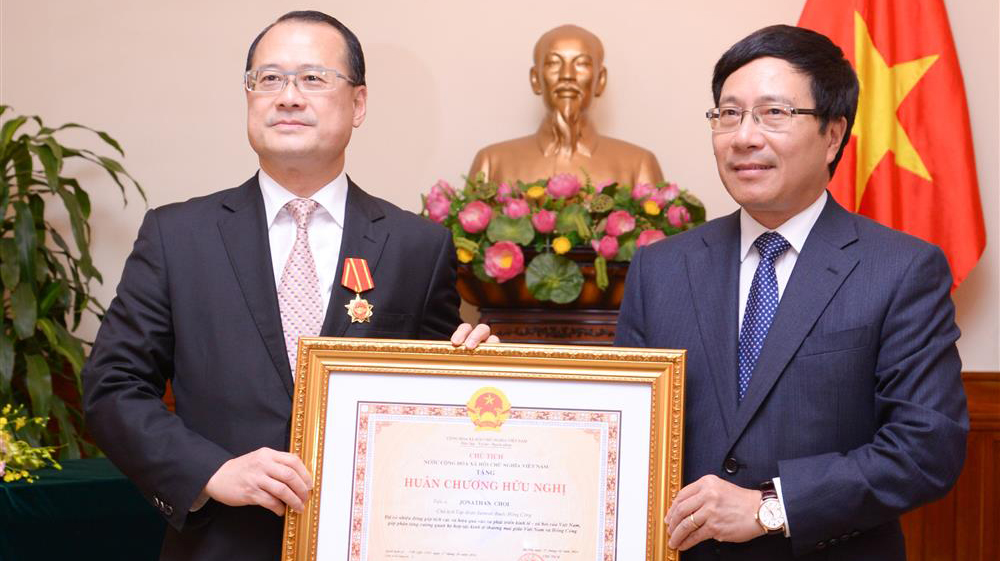 Achievements
Vietnam confers Friendship Order on Sunwah Chairman
Deputy Prime Minister and Foreign Minister Mr Pham Binh Minh presented the Friendship Order to Dr Jonathan Choi, Chairman of Sunwah Group and Sunwah Foundation in Hanoi on 27 March 2015. The special service award was granted to Dr Jonathan Choi in recognition of his great contributions to Vietnam's socio-economic development and trade promotion between Vietnam and Hong Kong. Dr Choi has become the first Hong Kong citizen conferred with Vietnam's Friendship Order.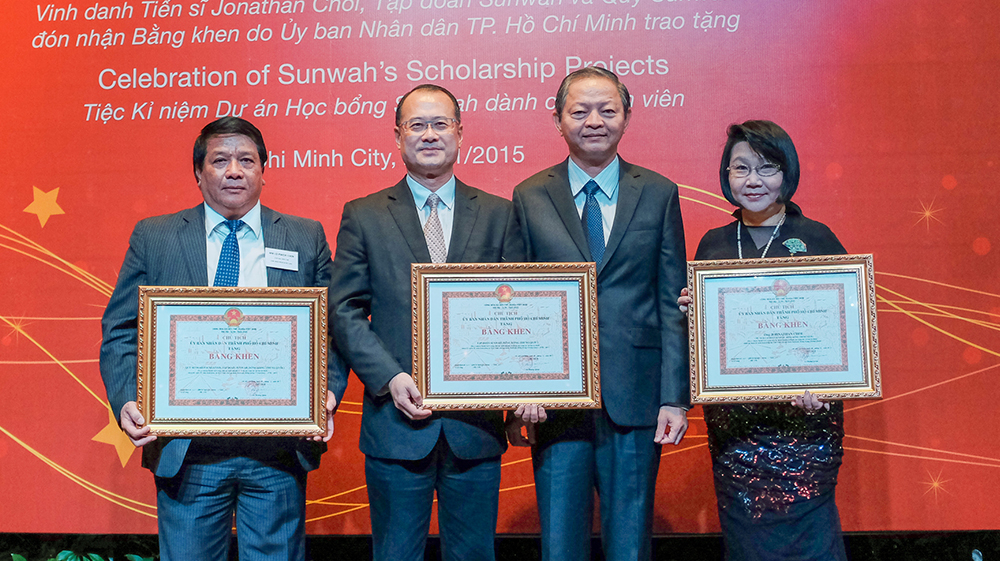 Certificates of Merit presented by the People's Committee of Ho Chi Minh City to Dr Jonathan Choi, Sunwah Group and Sunwah Foundation
At the dinner in celebration of Sunwah's 45th Anniversary in Vietnam, on 24 November 2015, Mr Le Van Khoa, Vice Chairman of the People's Committee of Ho Chi Minh City presented three
Certificates of Merit to Dr Jonathan Choi, Sunwah Group and Sunwah Foundation for outstanding
contribution to the socio-economic development of Ho Chi Minh City.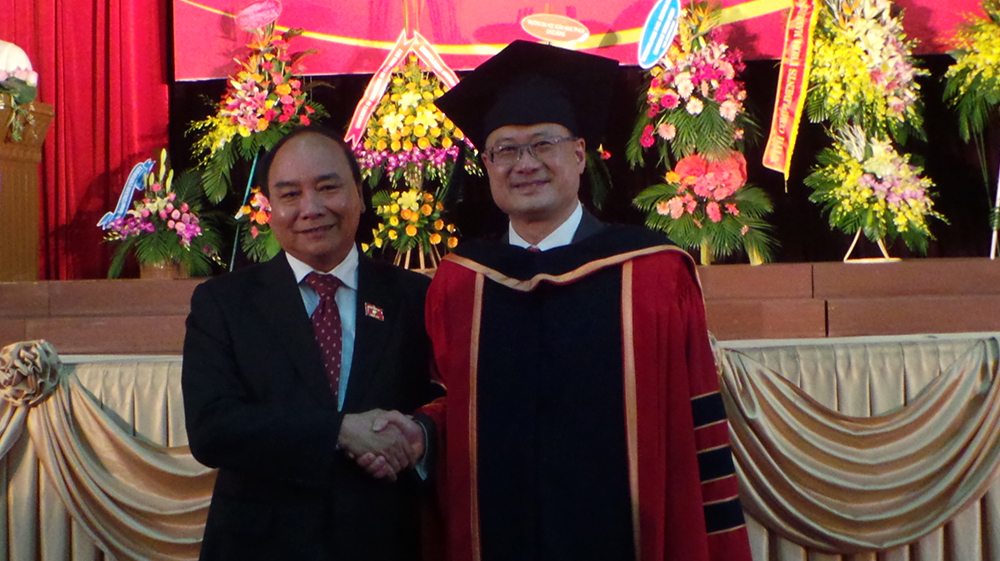 Dr Jonathan Choi was conferred Honorary Doctor Degree of Vietnam National University, Hanoi
On 8 June 2013, Dr Jonathan Choi was conferred the Honorary Doctor Degree of Vietnam National University, Hanoi in recognition of his achievements and contributions to the development of Vietnam National University, Hanoi in particular and Vietnam in general.
Sunwah Foundation in Vietnam
Sunwah Foundation, the public services arm of Sunwah Group, has been running social services, educational, arts and cultural as well as international exchange programs in Vietnam for
many years and the Foundation's works are greatly appreciated by the Vietnamese government, universities and Vietnamese people.

International Platforms (in Vietnam and worldwide)
Over nearly 50 years, Dr Jonathan Choi has focused not only on business investment in Vietnam,
but also in strengthening the ties of Vietnam with neighboring countries.