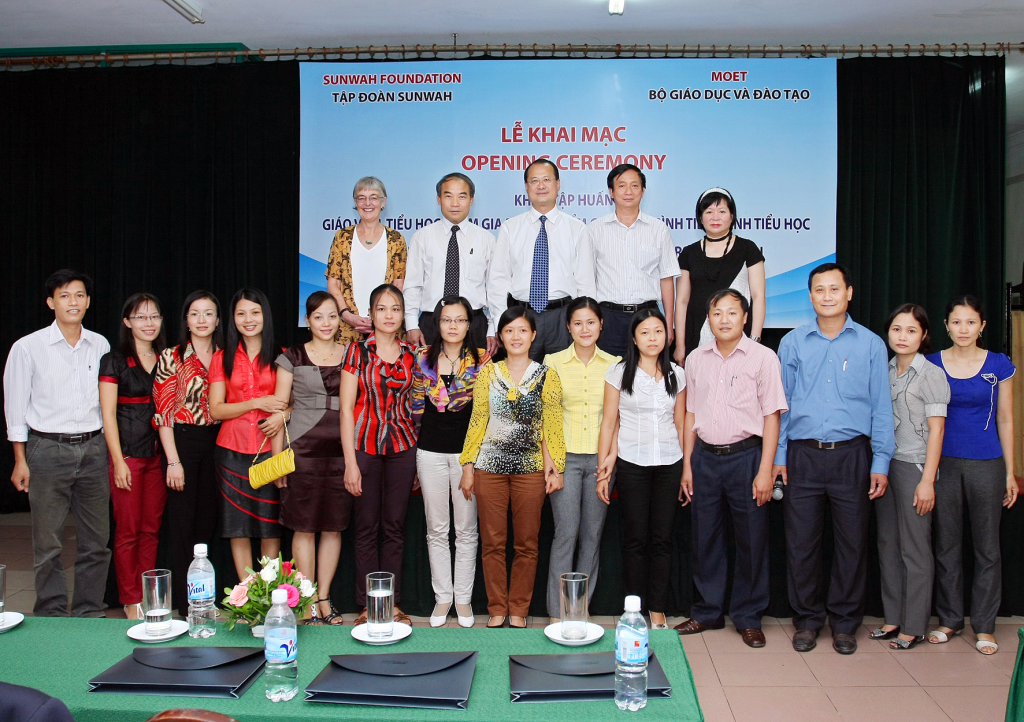 Opening Ceremony of Teachers Training Program sponsored by Sunwah Foundation for 100 primary teachers of English from 10 provinces in 2010
Signing Ceremony between Sunwah Foundation, University of Economics Ho Chi Minh City and Banking University of Ho Chi Minh City in 2011 to provide sponsorship to 60 underprivileged students

The "Sunwah and Friends Social Services Day 2013" in Ho Chi Minh City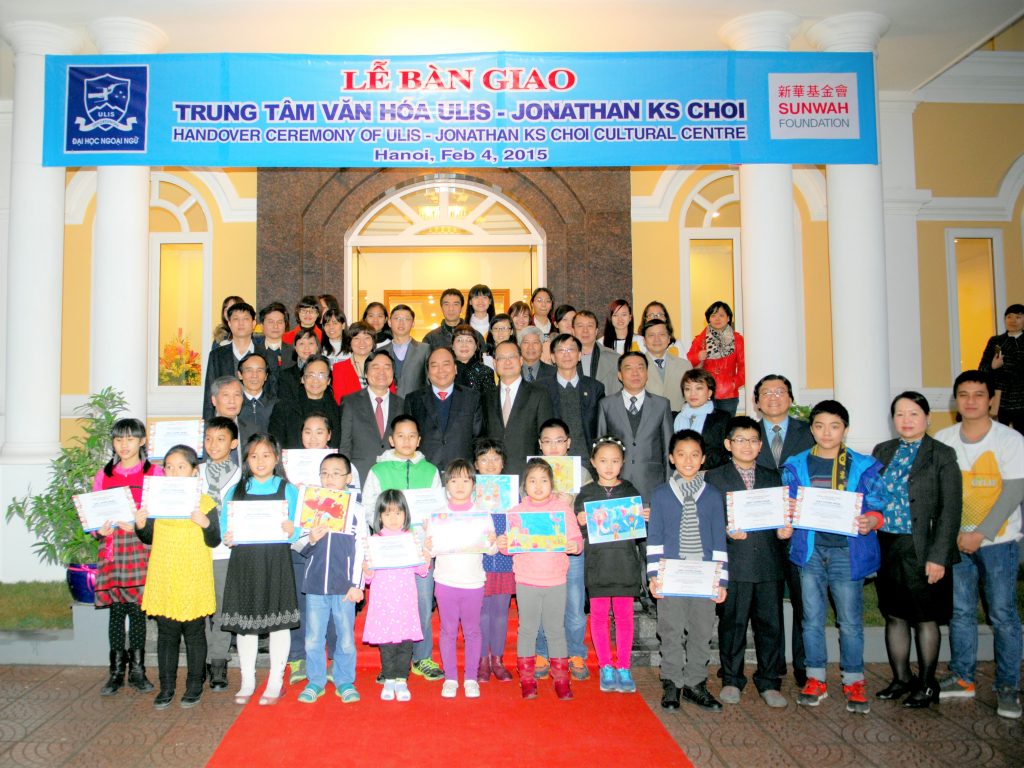 Handover Ceremony of ULIS – Jonathan KS Choi Cultural Centre in Hanoi in 2015. The then Deputy Prime Minister H.E. Nguyen Xuan Phuc officiated at the Ceremony.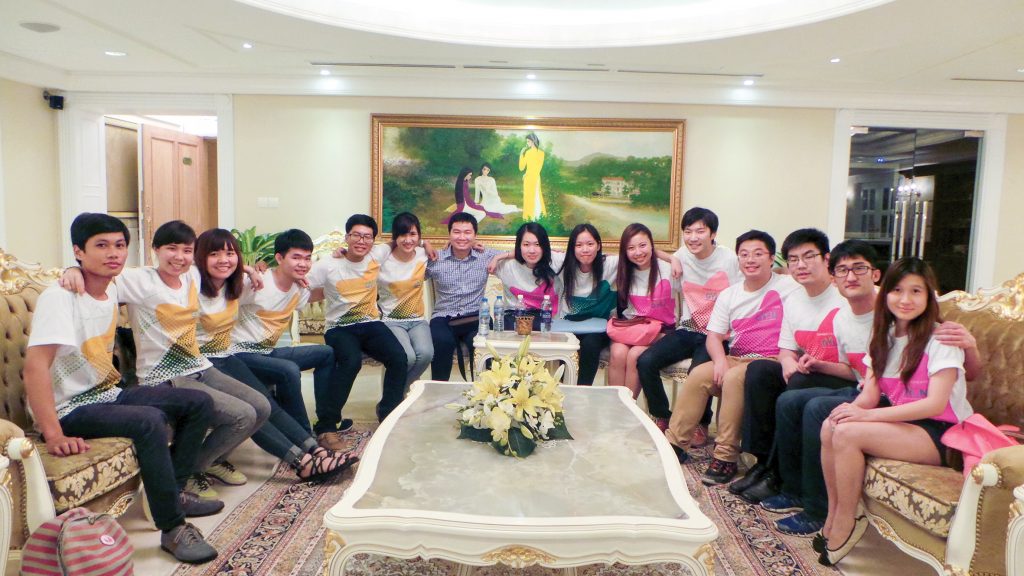 Sunwah Global Young Leaders Network gathering in Ho Chi Minh City in 2015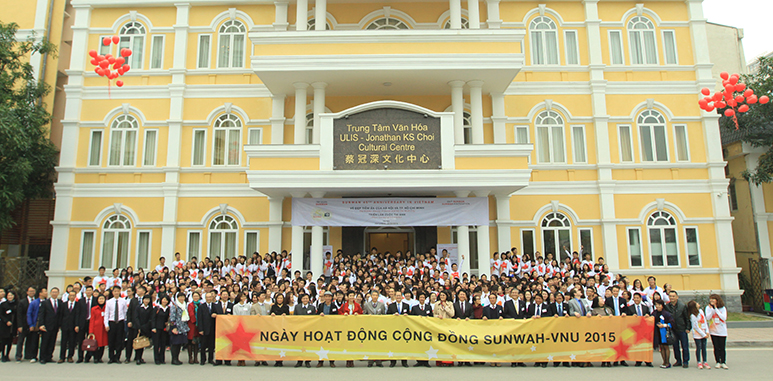 More than 500 people participated in the "Sunwah and VNU Social Services Day 2015" in Hanoi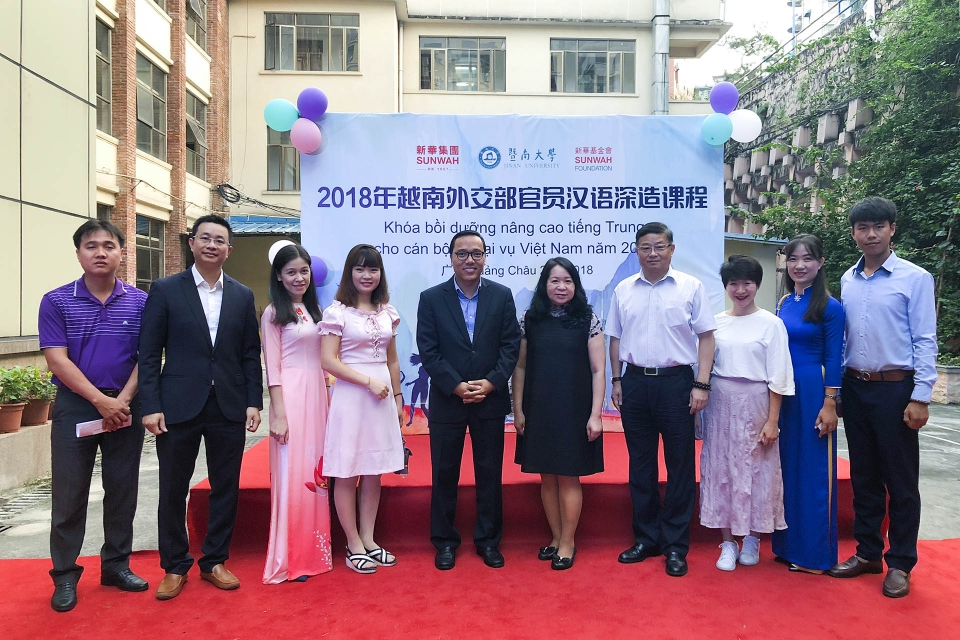 Representative of Sunwah Foundation (fifth from right) and officials from Vietnamese Foreign Affairs Division participating in the training course at Jinan University (Guangzhou, China) in 2018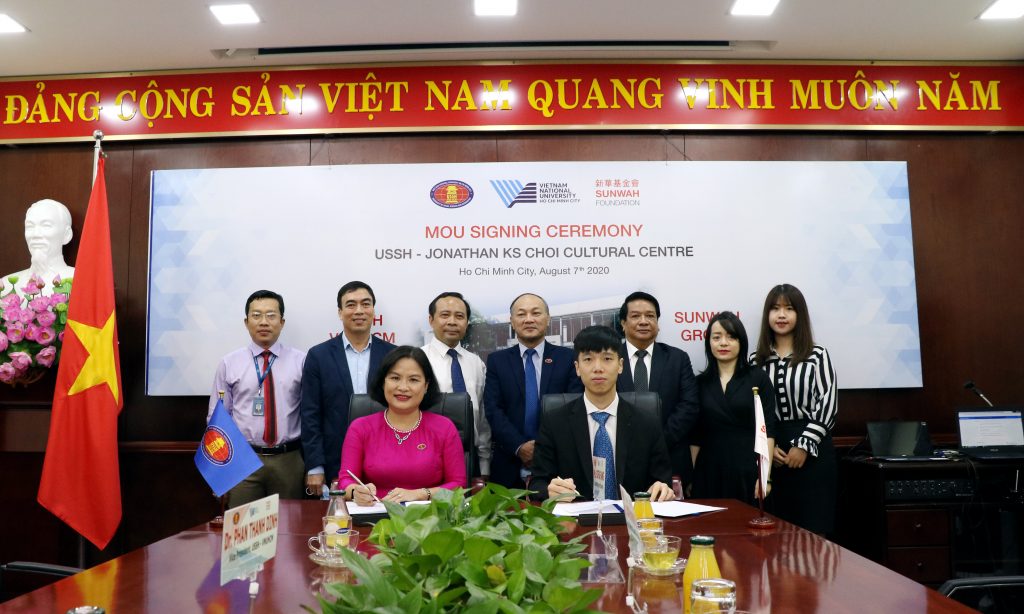 MOU Signing Ceremony on the establishment of USSH – Jonathan KS Choi Cultural Centre between Sunwah Group (right) and USSH (left) in 2020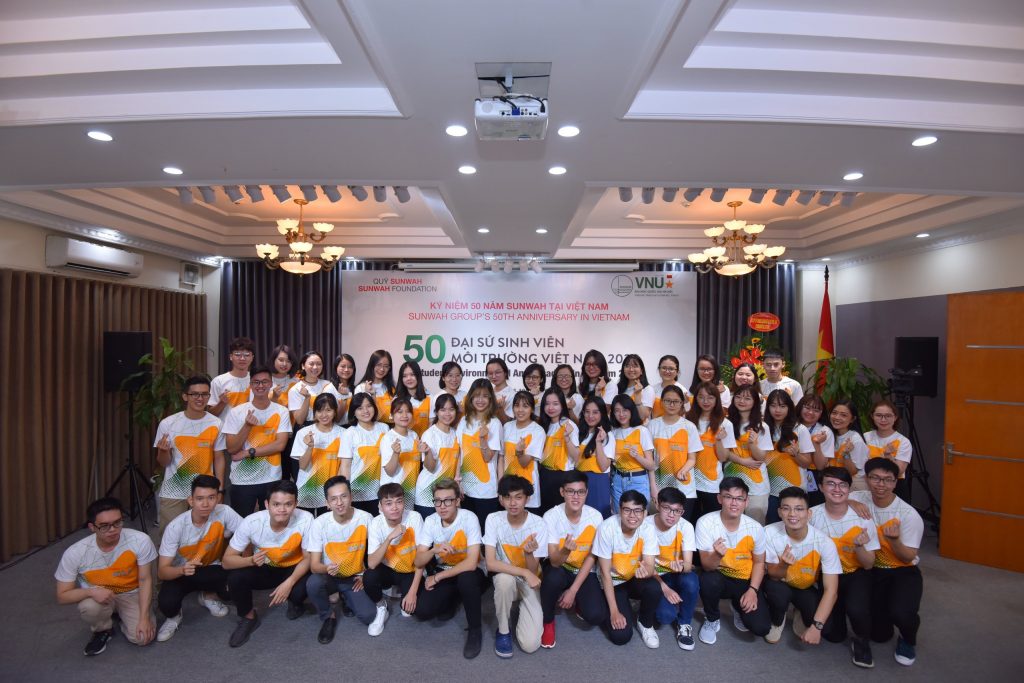 50 Student Environmental Ambassadors in Vietnam at the Opening Ceremony in 2020
SUNWAH FOUNDATION
JONATHAN KS CHOI FOUNDATION
Sunwah Foundation and Jonathan KS Choi Foundation have been running social services, educational, arts and cultural programs in Vietnam for many years. Their works are greatly praised by the Vietnamese government, universities and people.
In 2008, the two Foundations made a USD 1 million donation to launch a five-year plan on a series of educational projects in Vietnam, including scholarships for Vietnamese students to study in China, training programs for teachers in remote areas, constructions and renovations of schools in rural areas, and scholarships for disabled children.
In April 2009, the two Foundations and the Ministry of Culture, Sports and Tourism co-organized in Hong Kong an exhibition on "Contemporary Art of Vietnam", featuring 40 pieces of paintings.
In 2010, the two Foundations made its second donation of USD 1 million for projects on education, art and culture in Vietnam and held 2 large art exhibitions in Hanoi and Ho Chi Minh City. Also in 2010, the two Foundations organized a traning program which was lead by expert from the University of Glamorgan in the United Kingdom for 100 primary teachers of English in Vietnam.
In 2011, the two Foundations provided scholarships to 60 students from remote areas to study in Ho Chi Minh City, taking into consideration the development of students' leadership skills and social responsibility. In the same year, Sunwah Foundations also set up the "ULIS – SUNWAH Chinese Teaching and Research Centre" to promote Chinese teaching and research. Since then, the Centre has been organizing many meaningful activities such as: organization of four international, national conferences and Forums; sponsorship for teachers, experts to attend international conferences in Australia, Japan, Korea, Hong Kong, Mainland China; publication of five Chinese research books and eight research papers; Chinese training classes for officials from Ministry of Industy and Tradde and Ministry of Foreign Affairs; sponsorship for 60th Anniversary of  Faculty of Chinese Culture and Language, ULIS.
In 2013, the two Foundations organized "Sunwah and Friends Social Services Day" in Saigon Pearl, Ho Chi Minh City to raise awareness of the benefits of social service activities with the participation of over 1,000 people.
In 2014, Sunwah Global Young Leaders Network (Sunwah GYLN) was launched to provide a platform for students from various countries and regions to promote understanding and enhance leadership skill through various social services and culture exchange projects.
In early 2015, the ULIS – Jonathan KS Choi Cultural Centre built by Sunwah Foundation has started its operation and will be linked with other Cultural Centres in various countries to promote understanding, appreciation and respect for the unique culture of each country to generate goodwill, paving the way to a harmonious world.
Throughout 2015, the two Foundations have been organizing and supporting various projects for Sunwah Group's 45th Anniversary of doing business in Vietnam, including the Sunwah and Friends Social Services and Creativity Day in Ho Chi Minh City; training by international experts for 130 social workers from across Vietnam, and organizing a Photo Contest and Exhibition entitled "SUNWAH Project 45 – The Hidden Beauty of Hanoi and Ho Chi Minh City" and Sunwah – VNU Social Services Day in Hanoi.
In 2016, the two Foundations supported the establishment of the "China Studies Program" at the Vietnam National University Hanoi to promote the understanding of China through academic research and provide high-level and evidence-based policy analysis and advice to the two governments to strengthen bilateral relations and cooperation between two countries.
In 2018, the "Advanced Chinese training course" was organized at the Chinese Language and Culture Institute, under Jinan University (Guangzhou, China) for officials of the Foreign Affairs Division, under the Ministry of Foreign Affairs, from various provinces and cities of Vietnam.
Following the success of the ULIS – Jonathan KS Choi Cultural Centre in Hanoi, Sunwah will open another Cultural Centre in Vietnam National University Ho Chi Minh City (VNUHCM) to continously assist universities in the City and contribute to the education development of Vietnam. As part of a series of events to celebrate the 50th Anniversary of Sunwah Group in Vietnam, in 2020, the Group signed an MOU with the University of Social Sciences and Humanities (USSH), a member university of VNUHCM, to establish the USSH – Jonathan KS Choi Cultural Centre in Ho Chi Minh City.
Also in November 2020, the "50 Student Environmental Ambassadors in Vietnam" project was held as part of the 50th Anniversary celebration. The 50 environmental ambassadors, who all are Sunwah GYLN members, were selected from universities across Vietnam to gather and train together on creating projects to alert the public on environmental issues in Vietnam. After the training, the students had the chance to launch their environmental projects in their universities.
A three-day International Film Forum Hanoi which scheduled to be held in 2021, is not only an event to celebrate Sunwah's 50th Anniversary in Vietnam but also a precious opportunity to expand the "Sunwah Youth Innovation and Entrepreneurship Alliance in Film and Television" to Asian countries in general and Vietnam in particular.