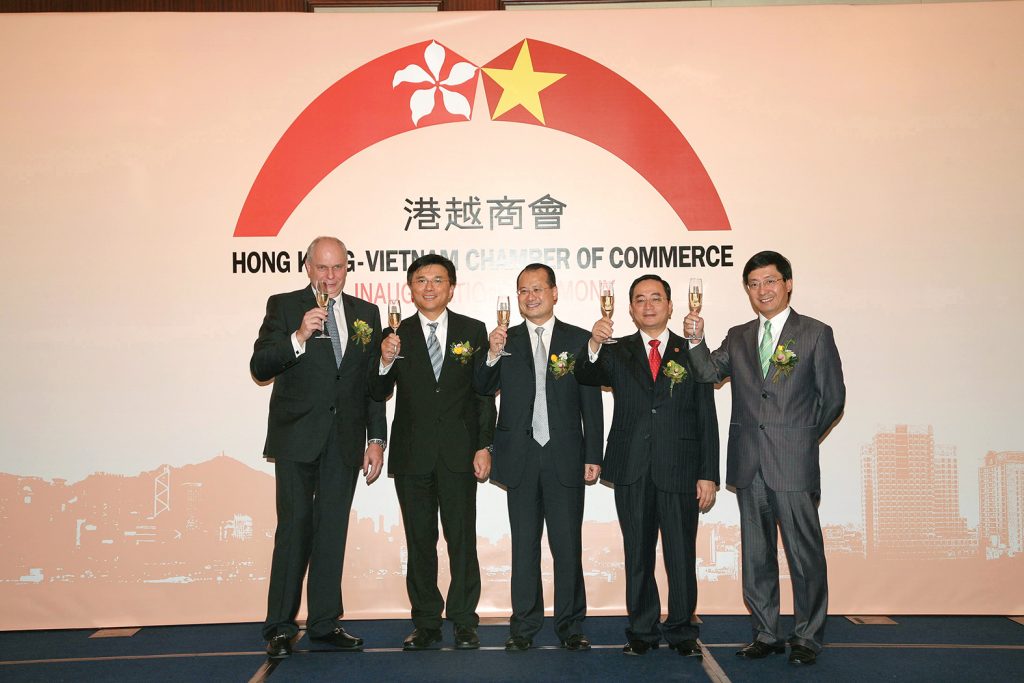 Inauguration Ceremony of the Hong Kong – Vietnam Chamber of Commerce in November 2008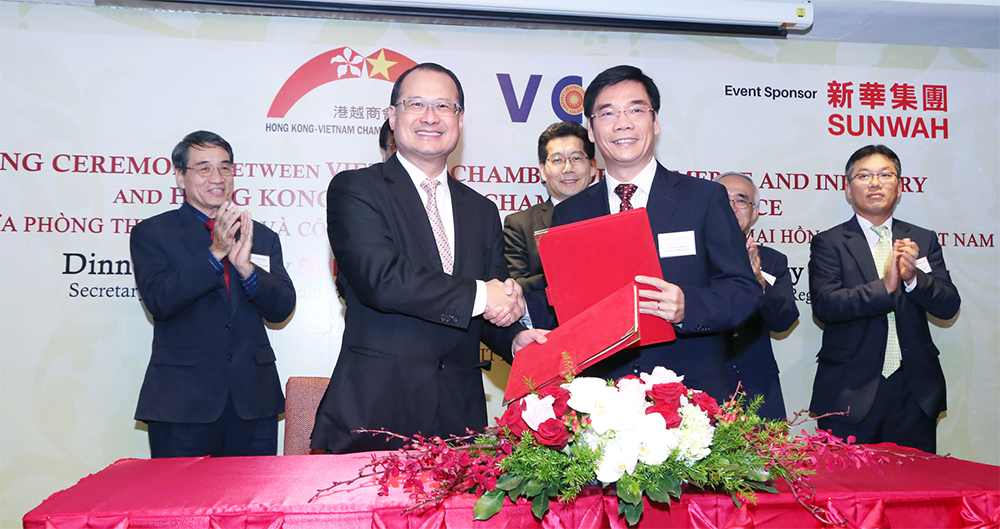 Dr Jonathan Choi and Dr Doan Duy Khuong, Executive Vice President of Vietnam Chamber of Commerce and Industry (VCCI) at the signing Ceremony of Cooperation Agreement between VCCI and HKVCC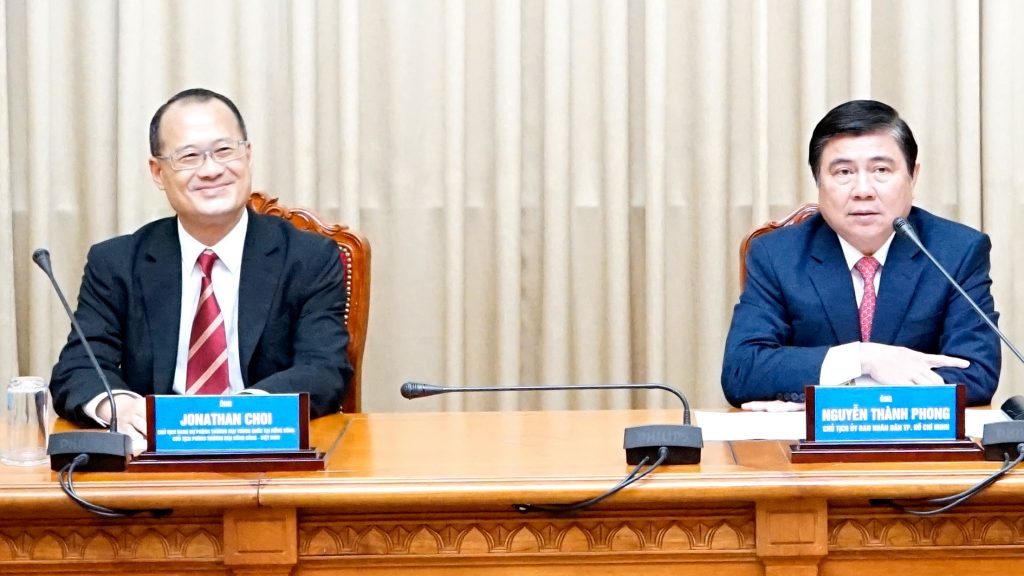 Dr Jonathan Choi and Chairman of the Ho Chi Minh City People's Committee Mr Nguyen Thanh Phong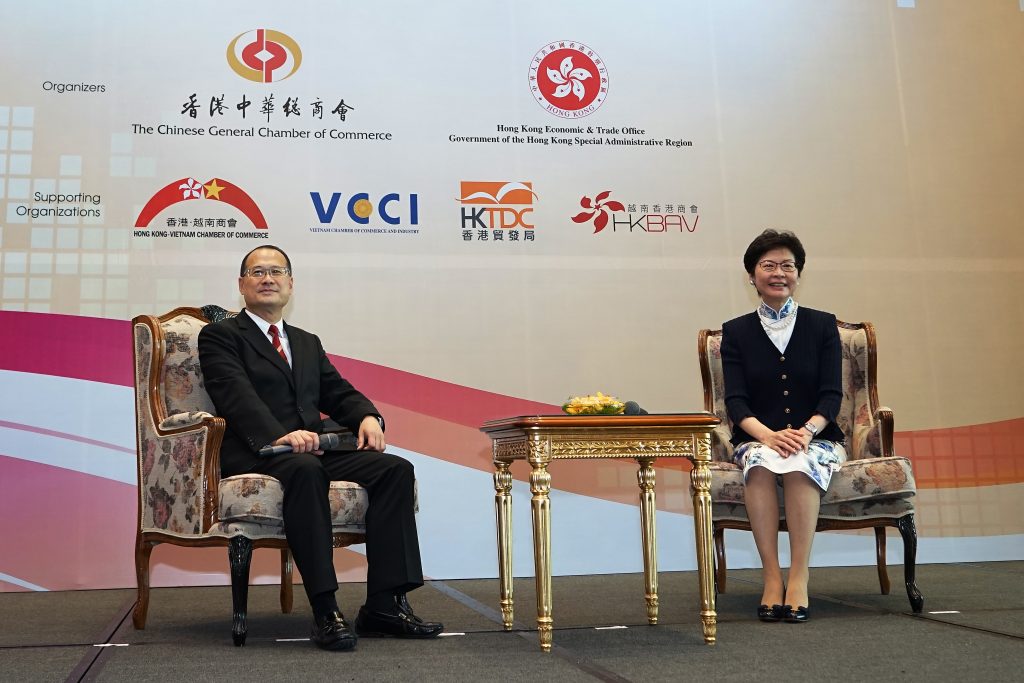 Dr Jonathan Choi and Mrs Carrie Lam at Luncheon on Opportunities for Hong Kong & Vietnam under ASEAN Regional Co-operation
HONG KONG – VIETNAM CHAMBER OF COMMERCE
With government and private sector support, Sunwah Group's Chairman, Dr Jonathan Choi founded the Hong Kong – Vietnam Chamber of Commerce (HKVCC) in November 2008. HKVCC is a non-government, non-profit limited organisation that engages to promote the common interests of the Hong Kong and Vietnamese business communities.
CO-ORGANISES "VIETNAM GLOBAL INVESTMENT CONFERENCE" 
HKVCC jointly organized "The Vietnam Global Investment Conference" with the Hong Kong Trade Development Council (HKTDC), the Consulate General of the Socialist Republic of Vietnam in the Hong Kong SAR and Macao SAR and the Vietnam Chamber of Commerce and Industry, during Vietnam Prime Minister Mr Nguyen Tan Dung's official visit to Hong Kong on 20 April 2009.
MEETING WITH DELEGATIONS FROM 10 MINISTRIES OF VIETNAM
HKVCC organised a meeting for HKVCC members with 18 delegates from 10 Ministries of Vietnam, headed by Mr Ho Xuan Son, Member of the Party Central Committee and Vice Minister of Foreign Affairs on 31 July 2013 to discuss the latest economic and investment prospects in Vietnam and cooperation projects with Hong Kong companies.
COOPERATION AGREEMENT WITH VCCI
On 21 November 2014, an Agreement of Cooperation was signed between the Hong Kong – Vietnam Chamber of Commerce and the Vietnam Chamber of Commerce and Industry in Ho Chi Minh City. Mr Gregory So, Secretary for Commerce and Economic Development of the Hong Kong Special Administrative Region officiated at the ceremony. Witnessing were Mr Chai Wen Rui, Consul General of the People's Republic of China; Mr Nakajima Satoshi, Consul General of Japan and Mr Moon Byung Chul, representing Consulate General of the Republic of Korea. The agreement will help to further expand trade and investment between Hong Kong and Vietnam as well as Mainland China and the other Asian economies.
MEETING WITH MR NGUYEN THANH PHONG, CHAIRMAN OF THE HO CHI MINH CITY PEOPLE'S COMMITTEE
In August 2016, a Hong Kong business delegation consisting of about 70 business representatives led by Dr Jonathan Choi attended a meeting with Mr Nguyen Thanh Phong, Chairman of the Ho Chi
Minh City People's Committee, to discuss about cooperation and investment opportunities between Hong Kong and Vietnam.
SUPPORT ORGANIZATION FOR THE LUNCHEON ON OPPORTUNITIES FOR HONG KONG & VIETNAM UNDER ASEAN REGIONAL CO-OPERATION
HKVCC was the leading supporting organization for the Luncheon on Opportunities for Hong Kong & Vietnam under ASEAN Regional Co-operation on 16 August 2016. Mrs Carrie Lam, the then Chief Secretary and now Chief Executive of Hong Kong SAR Government, also attended the Luncheon as the keynote speaker together with Dr Jonathan Choi.
For more information, please visit
here