Dr Jonathan Choi donated anti-epidemic materials to Austria
Sunwah Vietnam
(15 April 2020)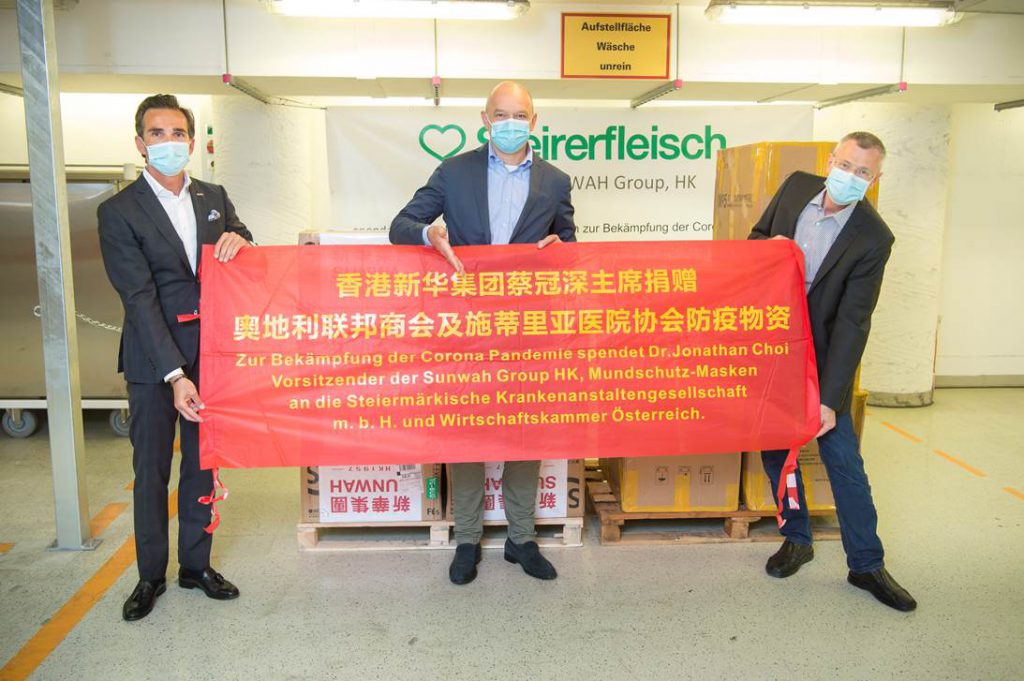 Hong Kong Sunwah Group representative donated anti-epidemic materials to the Austrian Federal Chamber of Commerce and the Styrian Hospital Association
China.com.cn – Recently, Dr Jonathan Choi, Standing Committee Member of the Chinese People's Political Consultative Conference and Chairman of Sunwah Group, donated 20,000 FFP2 medical masks to support the Austrian Federal Economic Chamber and the Styria Hospital Association. Mr Dietmar Schweiggl, Special Representative of the President of the Austrian Federal Economic Chamber, Chairman of the Austrian Agricultural Trade Commission and Mr Werner Sailer, leader of the Styria Hospital Association, and other representatives of the above-mentioned units received the donation and expressed their sincere thanks to Dr Choi for his beautiful gesture. In addition, the Austrian Federal Economic Chamber also specifically sent a notice to the Austrian Embassy in China about this donation, as well as a thank-you letter to the Chinese Embassy in Austria.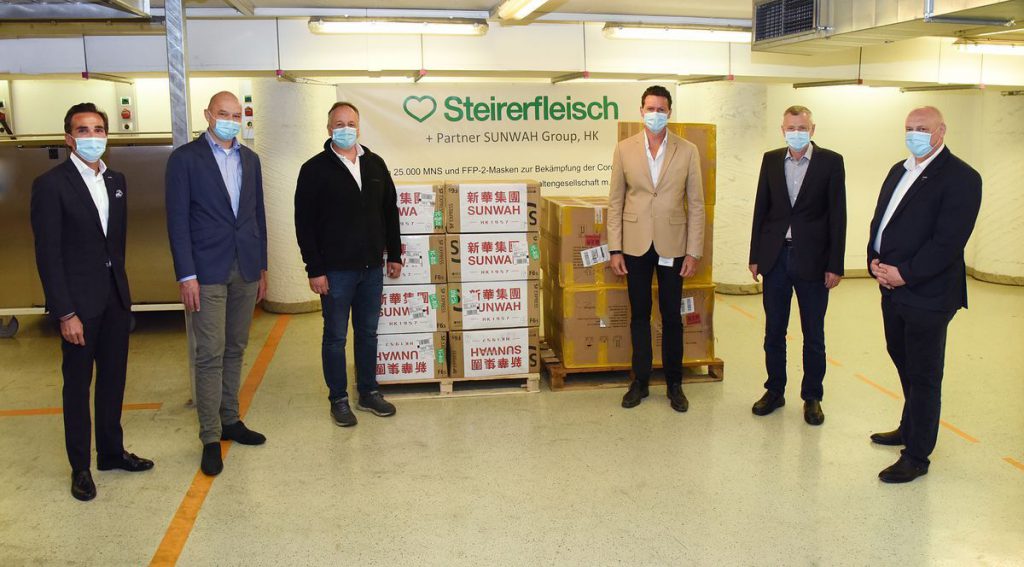 Representatives from medical organizations and the Austrian Economic Chamber received anti-epidemic supplies from Sunwah Group
Reportedly, Austria was one of the first countries in Europe facing the outbreak of COVID-19 epidemic, by announcing compulsory measures on wearing masks, the epidemic situation in Austria has been gradually controlled. Austrian Prime Minister Kurz recently said that it is meaningless to play the "blame game" of "who should be responsible for the epidemic". He said it was wrong to blame a single country or region for being responsible for the global pandemic.
The Austrian Federal Economic Chamber is the official body of the Austrian government and the highest Austrian Chamber of Commerce organization. It is reported that the Styrian Hospital Association is located in Graz, the second-largest city in Austria, and is a public organization representing the Styrian hospital system.
Since the first outbreak of the COVID-19 pandemic, Dr Jonathan Choi has purchased medical equipment and supplies to prevent the disease from many places and then donated to Wuhan, Beijing, Tianjin, Shenyang, Hong Kong, which are the cities that have suffered heavily in China. In addition, he also donated to many other countries and regions around the world such as France, Germany, Spain, Japan, Korea, Canada, Malaysia, Vietnam, and Cambodia. The total amount of donations up to date is more than 6 million RMB.
Translate from: China.com.cn