Sunwah Kingsway Vietnam Launching Ceremony
Sunwah Vietnam
(26 October 2016)
Vietnam Economic Times – Joint venture established to manage investment capital from Sunwah Group.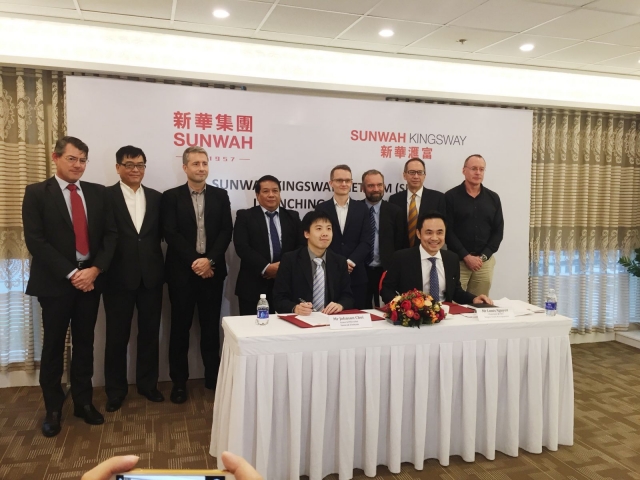 Mr. Johnson Choi, General Director of Sunwah Vietnam (left) and Mr. Louis Nguyen, Chairman and CEO of SAM signing Agreements witnessed by top executives of Sunwah Vietnam and executives of SAM
Hong Kong's Sunwah Group, through its subsidiary the Sunwah Vietnam Investment Company (SVIC), announced further investment totaling $100 million in Vietnam at a ceremony held on October 25 in Ho Chi Minh City.
The Sunwah Kingsway Vietnam Company (SKV), a joint venture between Sunwah Kingsway Capital Holdings Limited and the Saigon Asset Management Corporation (SAM), has also been established to provide investment services to inbound and outbound enterprises in Vietnam, in which Sunwah Kingsway holds 60 per cent.
SKV represents SVIC in managing equity of $100 million in Vietnam. The joint venture links the human resources and professionalism of Sunwah Kingsway as well as the Sunwah Group with the strengths and investment track record of SAM.
SVIC will distribute the investment capital in the Sunwah Group's strategic fields, including $30 million in food and beverages, $30 million or more, depending on each project, in real estate, $20 million in e-commerce, media, education, healthcare, and green technology, and $20 million in startups.
"In most cases SVIC prefers opportunities in the expansion stage, where the company or project is seeking strategic capital to further grow their business," said Mr. Louis Nguyen, CEO of SKV and SAM. "The objective of SVIC is to leverage the Sunwah brand, expertise and resources to invest and create sustainable value."
"Because of the long-term on-the-ground experience and conglomerate nature of the Sunwah Group we offer the flexibility to invest in a wide array of asset classes, including private equity, listed equities, and real estate. We look forward to working with entrepreneurs and capitalizing on this new upswing cycle of Vietnam."
Regarding the exit strategy, SVIC invests and assists companies with plans for an initial public offering (IPO) at the Hong Kong Stock Exchange or other international markets. Investment scale has not exceeded 20 per cent of net equity and is at a minimum of $100,000. Potential companies must have minimum turnover of $2 million and minimum profit margin of 20 per cent.
"We have invested in excess of $1 billion in Vietnam and have seen positive developments over our 45 years in the rapidly growing country," Mr. Johnson Choi, Executive Director of Sunwah Group and General Director of Sunwah Vietnam, told the ceremony. "With the latest changes in government leadership and policies and the rising tide of investment opportunities, adding this $100 million validates our long-term commitment to Vietnam."
The Sunwah Group is a private conglomerate operating in seafood and foodstuffs, real estate, financial services, technology, media and infrastructure businesses worldwide.
Founded in 1990 and listed on the Hong Kong Stock Exchange since 2000, Sunwah Kingsway has developed into a leading local brokerage firm and respected middle market financial services provider. It offers services in corporate finance, institutional sales, trading, brokerage, and proprietary investments.
SAM is a Vietnamese fund management and private equity firm based in Ho Chi Minh City. It is the investment manager of Vietnam Equity Holding (VEH) and Vietnam Property Holding (VPH), two leading Vietnam-focused investment funds listed on the Stuttgart Stock Exchange.
Nguồn: Vietnam Economic Times