Dr Jonathan Choi hosted the "Indonesia – Hong Kong Business Meeting" in honor of the President of the Republic of Indonesia H.E. Joko Widodo
Sunwah Vietnam
(1 May 2017)
GMW – On 1 May 2017, Dr Jonathan Choi, Chairman of the Hong Kong Chinese General Chamber of Commerce, presided over the "Indonesia-Hong Kong Business Meeting" in Hong Kong. Indonesian President H.E Joko Widodo and Chief Executive of the Hong Kong Special Administrative Region (HKSAR), Mr Leung Chun-ying officiated at the meeting to discuss on the business and investment situation of Indonesia and Hong Kong as well as the prospects for economic and trade cooperation between the two sides in particular and the whole of East Asia in general.
Dr Jonathan Choi and Mr Rosan P Roeslani, Chairman of the Indonesian Chamber of Commerce and Industry, respectively delivered their speeches at the meeting, and signed a memorandum of cooperation to launch many cooperation projects with several industrial and commercial organizations.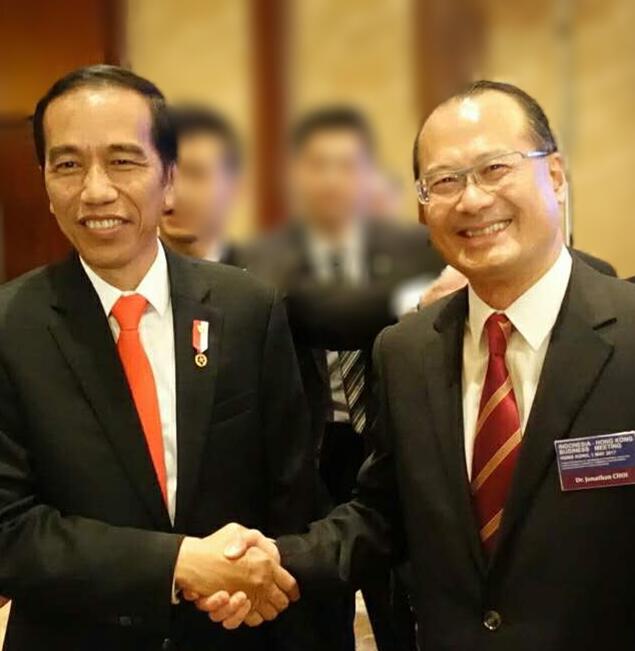 Dr Choi met with Indonesia President Joko Widodo
Promoting closer ties between Hong Kong and Indonesia
At the meeting, Mr Leung Chun-ying pointed out that Hong Kong and Indonesia had maintained a good business partnership. Under the "one country, two systems" advantage, Hong Kong can play an important role in the financial, professional services and other aspects of business interaction and market expansion between Mainland China and Indonesia. He mentioned the "Guangdong Bay Area" development would make it more effective in promoting Hong Kong as an intermediate market between East Asia and the Mainland China, so that bilateral relations between Indonesia and Hong Kong would develop to a more comprehensive stage.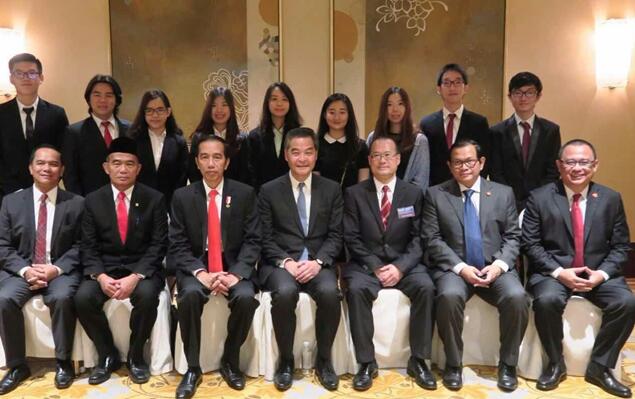 President Widodo (front row, third from left), Mr Leung Chun-ying (front row, middle), Dr Jonathan Choi (front row, third from right) and 10 Indonesian students (back row) who came to Hong Kong through the "One Belt One Road" Scholarship Program
President Widodo emphasized that the Indonesian government in recent years has actively improved the allocation of public expenditure, to enhance infrastructure, health and other categories of spending, to carry out the new power plants, roads and other infrastructure projects as well as to promote a series of reform measures including deregulation and tax in order to build a more favorable business environment. In particular, the Indonesian authorities have invested more resources and expanded new projects in tourism promotion. He believes that a series of reforms will further enhance the business environment and competitiveness, and help attract Mainland China and Hong Kong companies to invest in the Indonesian market. He said, Hong Kong would play an important role in the financing of infrastructure, tourism and other fields. Indonesian government always welcomes Hong Kong, Mainland China and international business partners to Indonesia to invest and continue to deepen the business cooperations.
Five hundred political and business leaders discussed on economic and trade prospects
Dr Jonathan Choi pointed out in his speech that, in recent years, Hong Kong has actively promoted the signing of a free trade agreement with ASEAN, as it will not only help strengthen economic and trade ties between Hong Kong and Indonesia, but also open more space for the development of regional economy in East Asia. Hong Kong and Indonesia should give full play to their unique advantages to promote business relations in the region, and lead the industrial and commercial enterprises to seize the huge business opportunities in regional economic and trade cooperation.
President Luo Shanzong also said that Hong Kong and Indonesia has maintained close ties in trade and investment for years. Together with the Asia-Pacific regional economic cooperation, the two sides will actively promote each other in a number of areas such as infrastructure operations to usher in a huge space for development.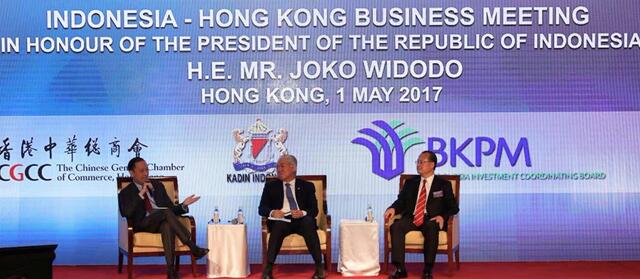 Dr Jonathan Choi discussed with Indonesian Minister of Trade Mr Enggartiasto Lukita (middle) and Chairman of the Investment Co-ordinating Board Mr Thomas Lembong at the Meeting (left)
 The Indonesian Minister of Trade and Chairman of the Investment Co-ordinating Board also shared the latest policy of the Indonesian government in promoting the development of local trade and investment markets, and discussed with the participants on how to enhance Hong Kong and Indonesia's promotion of free trade and investment, cultural exchanges, tourism, education, and support the development of small and medium-sized enterprises in different areas. Indonesian Trade Minister Mr Enggartiasto Lukita and Chairman of the Investment Co-ordinating Board Mr Thomas Lembong also presented the latest developments in local trade and investment and related policy reform measures at the meeting.
Translated from: Guangming Online