Hong Kong seeks closer investment, trade ties with Vietnam
Sunwah Vietnam
(16 August 2016)
VIR – Hong Kong looks forward to stronger ties with Vietnam, its Chief Secretary for Administration, Mrs Carrie Lam, has said.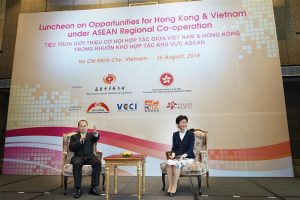 Dr Jonathan Choi and Mrs Carrie Lam
Speaking at a luncheon meeting on "Opportunities for Hong Kong and Vietnam under ASEAN Regional Co-operation" in HCMC on August 16, Mrs. Carrie Lam said that Vietnam is Hong Kong's third largest trading partner in ASEAN.
Bilateral trade topped 16 billion USD last year, a year-on-year increase of 16.7 per cent. Hong Kong is Vietnam's 10th largest trading partner, while the latter is the island's ninth largest partner. Mrs Lam stated that Hong Kong was Vietnam's sixth largest source of FDI in the first fours month of this year, valued at around $196 million. The conclusion of free trade agreement talks between ASEAN and Hong Kong, scheduled this year, would promote economic and trade ties, including with Vietnam.
In his welcome speech, Dr Jonathan Choi, Permanent Honorary President of the Chinese General Chamber of Commerce in Hong Kong and Chairman of the Hong Kong-based Sunwah Group, said as the East Asian economies are entering a new stage of regional co-operation and integration, "I believe that there is a great deal of potential for Hong Kong and Vietnam to work closer together to make strategic contributions in regional collaboration. As a major international financial centre, Hong Kong is an ideal place to provide adequate infrastructure financing for Vietnam and other ASEAN markets."
Dr Choi stated that Vietnam's low-cost labour and investment incentives can attract foreign investments across a wide range of sectors. Both Hong Kong and Vietnam can act as a bridge and facilitator for companies from Vietnam, Hong Kong and mainland China in attracting investments as well as grasping the huge opportunities in the region, he said.
Mrs Lam spoke about Hong Kong's competitiveness and strengths. Thanks to its rule of law, business-friendly environment and connectivity with the globe as well as the mainland, it is a preferred location for global businesses, she said. Mrs Lam revealed that it is seeking to strengthen its leading position in traditional industries like trading and logistics, financial services, professional services and tourism, while developing new economic sectors such as creative industries and innovation and technology. Besides, she stated that on the conclusion of the ASEAN-Hong Kong FTA, Hong Kong would enhance its "super-connector" role between mainland China and the ASEAN Economic Community. Therefore. she encouraged more Vietnamese firms to use Hong Kong as a gateway to enter the Chinese market and other regional and global markets.
Co-organised by the Chinese General Chamber of Commerce in Hong Kong (CGCC) and the Hong Kong Economic and Trade Office in Singapore, the luncheon attracted over 300 participants, including CGCC committee members, government officials, and business leaders from ASEAN, mainland China and Hong Kong. The annual event aims to explore further opportunities and future development between Hong Kong and ASEAN. It was held in Kuala Lumpur and Singapore in 2014 and 2015.
Source: Vietnam Investment Review