Mr Jesse Choi, Director of Sunwah Vietnam, visited British Consulate General in Ho Chi Minh City
Sunwah Vietnam
(5 August 2020)
Sunwah – In the afternoon of 5 August 2020, Mr Jesse Choi, Director of Sunwah Vietnam, paid a visit to the British Consulate General in Ho Chi Minh City to meet with Consul General Mr Ian Gibbons and Deputy Consul Mr Sam Wood. Mr Jesse Choi introduced about Sunwah Group, our businesses worldwide and in Vietnam as well as the connection between Sunwah and De Montfort University in the United Kingdom (UK). In 2004, Sunwah Group joined forces with Liaoning University (China) and the De Montfort University to establish Sunwah International Business School with students pursuing their studies for two years in China and another two in the UK.
Mr Jesse Choi also invited Mr Gibbons and Mr Wood to join a series of events to celebrate Sunwah Group's 50th Anniversary in Vietnam this year as well as introduced  the USSH – Jonathan KS Choi Cultural Centre and Sunwah Innovation Center as ideal venues for the British Consulate General's upcoming activities in Ho Chi Minh City.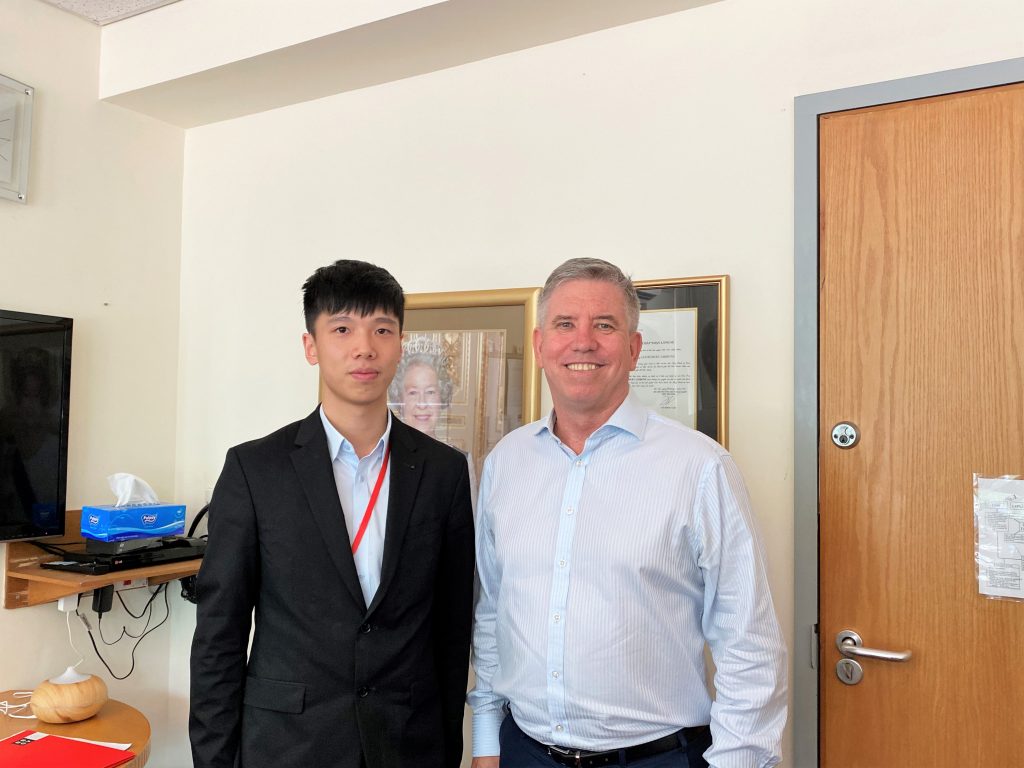 Mr Jesse Choi (left), Director of Sunwah Vietnam, and Mr Ian Gibbons (right), British Consul General in Ho Chi Minh City
The Consul General was impressed with the generous support of Dr Jonathan Choi, Chairman of Sunwah Group, to the UK's education sector as well as his position as Founding Chairman of several prestigious organizations, including the Hong Kong – Vietnam Chamber of Commerce, the Hong Kong Business Association Vietnam, the Guangdong – Hong Kong – Macao Greater Bay Area Entrepreneurs Union and many more. Mr Ian Gibbons was also happy to connect Sunwah with the British Chamber of Commerce in Ho Chi Minh City and the British Council, paving the way for more cooperation and exchanges between Sunwah and British companies and organizations in the future. Finally, he highly appreciated Mr Jesse Choi's goodwill for providing venues and other assistance for the British Consulate General's coming cultural exchange events.