Sunwah Group visited Embassy of Thailand in Vietnam
Sunwah Vietnam
(12 September 2022)
Sunwah – On 12 September 2022, Mr Jesse Choi, Regional Director of Sunwah Group in Southeast Asia and Ms Janice Le, Representative of Sunwah Group in Hanoi, had a meeting with the Thai Ambassador to Vietnam H.E Nikorndej Balankura.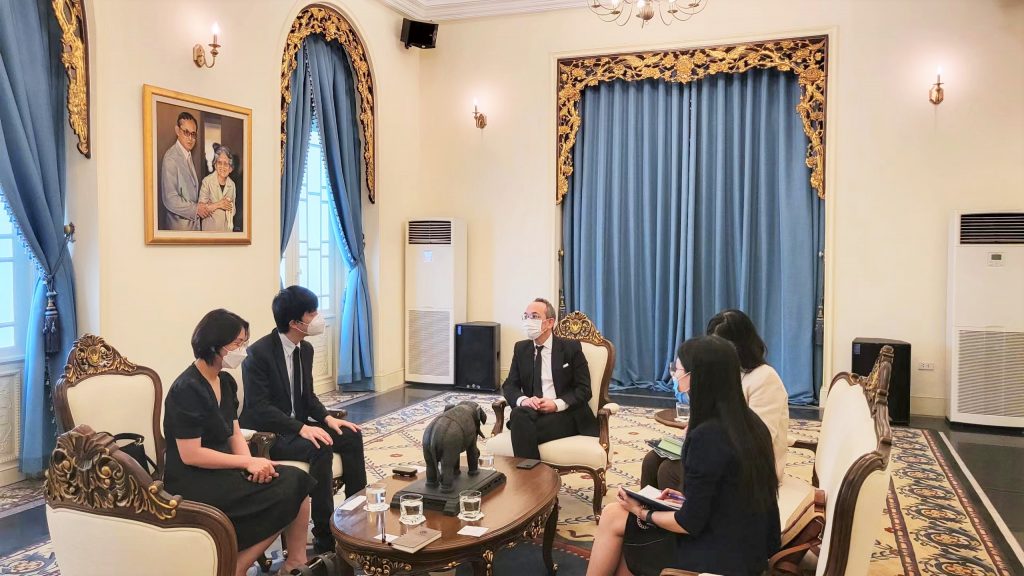 From left to right: Mr Jesse Choi (second) and Ambassador Nikorndej Balankura (third)
Mr Jesse Choi, introduced about Sunwah Group and our more than half a century of development in Vietnam with a wide range of businesses and international extensive networks. Mr Jesse Choi was pleased to welcome Kasikorn Bank's first branch in Vietnam located at Sunwah Tower in Ho Chi Minh City and also shared about initial collaboration with the Petroleum Authority of Thailand to promote trade between Thailand and China.
H.E Nikorndej was impressed with what Sunwah has been doing, especially in terms of innovation, digital economy, and social initiatives to contribute back to Vietnam's development, which is aligned with the agenda of Thailand in the country. With the recent establishment of Thai Chamber of Commerce and Industry (Thaicham) in Vietnam, Mr Nikorndej hoped to have more collaboration with other Chambers with the support from Sunwah. He was also interested in fostering cooperation between Thailand and the Greater Bay Area via Sunwah's networks in GBA.
Ambassador Nikorndej Balankura and Mr Jesse Choi 
Mr Nikorndej congratulated Mr Jesse on his role as the Chairman of the China Hong Kong and Macau Business Association of Cambodia and would like to arrange a courtesy call of Mr Jesse to the Royal Thai Embassy in Phnom Penh. He also welcomed Mr Jesse and Sunwah Group to join APEC in Thailand in November and introduced relevant contacts to explore business opportunities in Thailand.