Dr Jonathan Choi conferred with the Order of the Rising Sun, Gold Rays with Neck Ribbon
Sunwah Vietnam
(3 November 2022)
On 3 November 2022, the Government of Japan announced the foreign recipients of the Reiwa 4 Autumn Conferment of Decorations. The Order of the Rising Sun, Gold Rays with Neck Ribbon, has been conferred on Dr Jonathan Koon-shum Choi, Chairman of Sunwah Group, in recognition of his contribution to promoting economic exchange between Japan and China.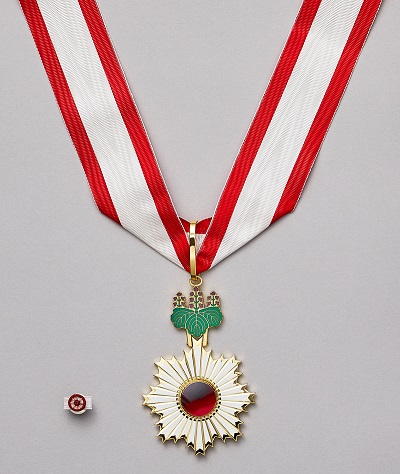 Dr Jonathan Choi has made outstanding contributions towards the development of economic exchanges and other related activities between Japan and Hong Kong during his 40 years as the Chairman of Sunwah Group, 6 years as Chairman of the Hong Kong – Japan Business Co-operation Committee, and 10 years as Permanent Honorary President of the Chinese General Chamber of Commerce.
Dr Choi also serves as the Standing Committee Member of the 13th National Committee of the Chinese People's Political Consultative Conference of the P.R.C and as Chairman of the Guangdong-Hong Kong-Macao Bay Area Entrepreneurs Union.  He is trusted by the Chinese Government and in Hong Kong's political and business circles and has extensive personal connections. In relation to his achievements, apart from receiving the "Friends of Diplomacy" honour from the Commissioner of the Ministry of Foreign Affairs of the P.R.C. in Hong Kong, he was also awarded the "Grand Bauhinia Medal" (Hong Kong's highest honour) by the Hong Kong S.A.R. Government, as well as the Foreign Minister's Commendation from the Japanese Government.
Furthermore, Dr Choi has a deep-rooted affinity with Japan. He undertook a one-year course at a Japanese language school in Kyoto when he was around 20 years of age and, as a consequence, is profoundly in love with Japanese culture. He visits Japan frequently and has many connections with Japan, both in Japan itself and Hong Kong.
Source: Consulate of Japan in Hong Kong